Early in March 2021, the founder and visionary behind Califia Farms, Greg Steltenpohl, passed. Leaving behind a legacy that continues to change a global industry. But before Califia Farms was what it is today, Greg Steltenpohl was just a man looking for a second chance.
If you didn't already know, Califia Farms was not Steltenpohl's first venture into the beverage industry.
In 1980, Steltenpohl, with a few friends from his band, started Odwalla, a juice brand built on values of nutrition. Unexpectedly, this small start-up grew to pioneer the juice craze of the 90s before a bacterial outbreak led to him stepping down from the company. In 2001, Odwalla was sold to Coca-Cola and lost their original brand vision, much to his disappointment.
While 'rags to riches' success stories have become somewhat more commonplace, Steltenpohl's story is far from ordinary, his impact even more so.
What might you do after building a multi-million dollar beverage empire that goes through a food poisoning crisis? The results of which leave the brand struggling for survival. Faced with the difficult choice of selling your company or letting the brand fail?
Not one to quit, Steltenpohl chose to dig his heels in and give it another shot.
In 2010, Greg started Califia Farms, named after Queen Califia, a majestic warrior devoted to protecting nature and the inspiration behind the Golden State's name.
Entering the market as a sustainable player with a mission to preserve natural resources while improving health and nutrition through a plant-powered diet.

With sustainability as its heart, Califia Farms began by using misshaped citrus fruits to squeeze fresh juice. These fruits would have otherwise become food waste despite being perfectly edible.
While in these early stages, Steltenpohl started playing with almond milk. What began as an exploration into a long-time obsession turned into Califia Farms' principal product offering.
On a mission to build upon the global plant-powered revolution to better both the environment and the people's health. With such a big goal, how does almond milk make a difference?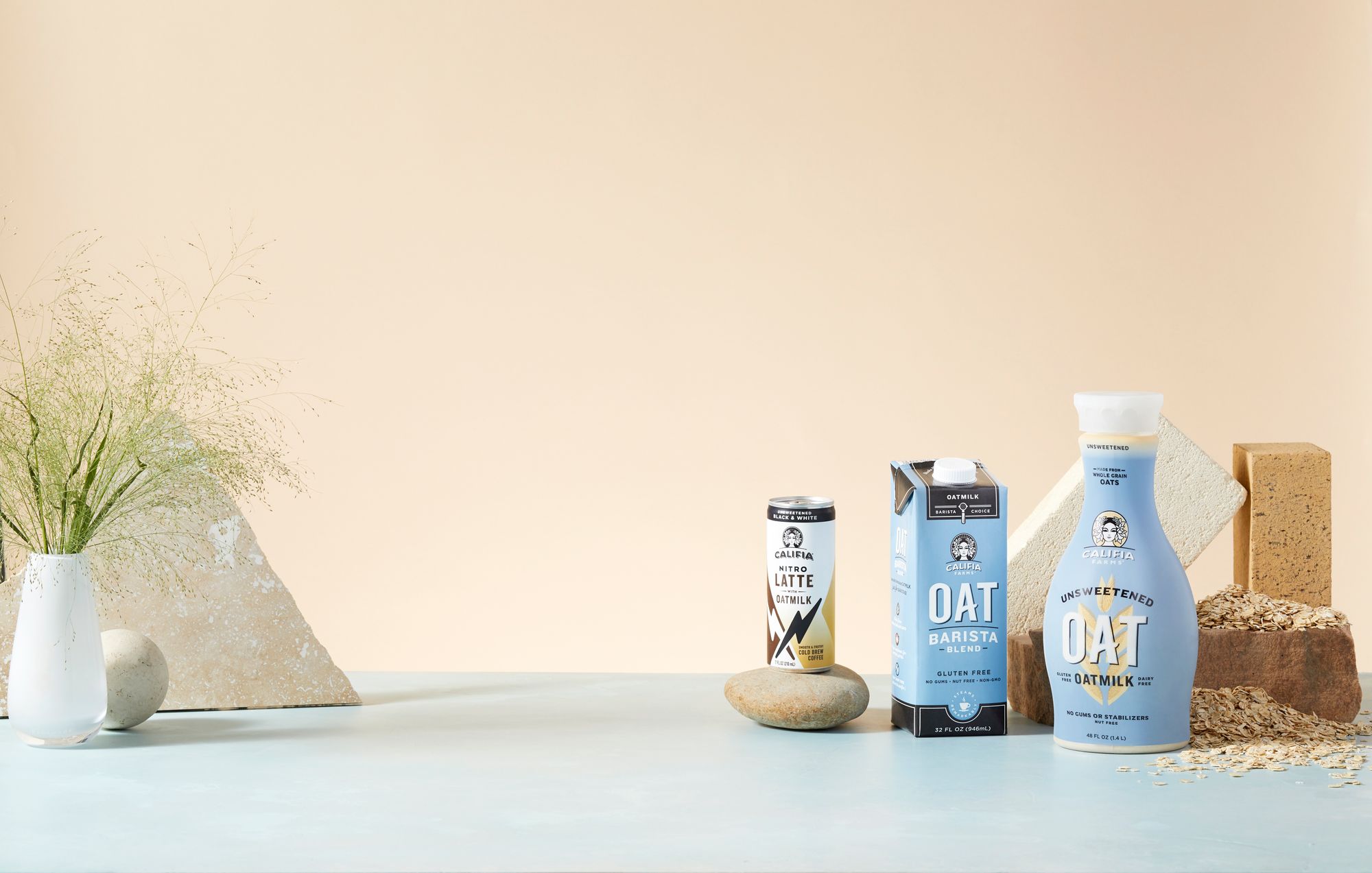 Aside from eventually, expanding from plant-based milk alternatives to smoothies, yogurts, plant butters coffee blends, and ethnic nut milk varieties in their iconic carafe.
Their perspective remains simple; the industrialized production of meat and dairy products damages the environment. Recent studies show that 30% of greenhouse gas emissions can be credited to the food system alone.
Some say that one of the most effective actions an individual can take to help shift these trends is to move to a plant-based diet.
With the introduction of their almond milk, they helped introduce consumers to the many benefits of plant-based beverages while empowering them to make change through their choices.
This move was particularly timely as the next generation of consumers grew up on environmental consciousness. They are actively seeking sustainable eating practices characterized by "better-for-you" food products at a low cost to the environment.
Califia met their consumer's need for a milk alternative while making it a taste-forward experience thanks to their extensive flavor options.
Today, Califia Farms is one of the most prominent names in the plant-based dairy industry. Priding themselves on their sustainable and ethical practices while leaving as little waste possible.
They've taken extra steps to ensure that every stage of their production process is aligned, starting with directly sourced ingredients all while ensuring ethical harvesting, lower emissions, and a shorter supply chain.
Califia Farms also takes care to use advanced irrigation practices to increase efficiency while still conserving water. Partnering with farmers to ensure that all of the water leaving the plant is safely reused for the harvest.
Their local farmers are also given over 90% of Califia's production waste to be repurposed rather than to end up in landfills.
Califia Farms has reached its success by remaining steadfast in its values. Choosing to go the extra mile by ensuring the environment is kept safe in every step of the process.
When they started, the concept of plant-based milk was relatively new and not yet widespread. Thanks to the their persistence and innovation, the demand for almond milk and other non-dairy alternatives grew along with the company.
In 2015, Califia Farms received high acclaim as Brand of the Year by BevNet, among other awards. With this, their status as an industry disruptor was solidified.
All of this started from the passionate mind of Steltenpohl. His desire to do good for the earth and for his community through nutritious and sustainable plant-based beverages.
Greg Steltenpohl, and Califia Farms, created products and secured distribution that empowered many consumers to lessen their impact on the planet.
And for the second time, he inspired a generation of entrepreneurs. Proving that sustainable production practices are not only possible but what consumers crave.
"It's not always the important thing to be the first," Steltenpohl said. "I think it's more important to solve a number of other problems.… The way we talk about it is: something different, something better — that's kind of the hurdle we have to pass internally. If we can't answer to ourselves why is it different, why is it better, how does it move the bar higher, then why are we doing it?"
Though he passed away in March of 2021, Greg leaves his mission and legacy with Califia Farms intact. Their continued efforts to deliver drinks that nourish the body, protect the earth and benefit the world. All of which make Greg Steltenpohl a pioneering Pantry Pal, indeed.