Originating in 1980, three musicians (George Steltenpohl, Gerry Percy, and Bonnie Bassett) set out to change their community for the better. Their offering? Freshly pressed juice squeezed right in Steltenpohl's California backyard. How much more modest can you get?
In true musical fashion, the company's name originated from the song: "Illistrum" by Art Ensemble of Chicago.
The lyrics see Odwalla ready to guide the "People of the Sun."
So with a $225 juicer and their heads full of dreams, the trio went to work ready to bring their bottled sunshine to the people.
Sales quickly accelerated from local restaurants to a steady stream of eager clients ecstatic to taste all 20 flavors. By 1992, Steltenpohl was equipped with a Stanford degree in environmental studies, and the company was employing 80 dedicated workers.
But working with Odwalla wasn't just another job. According to their 1998 website, almost 80 employees participated in developing their Vision and Core Values. This created an environment that encouraged employee autonomy, almost like a co-operative. It wasn't just about productivity or quotas but giving workers the ability to manage themselves and become entrepreneurs on their own.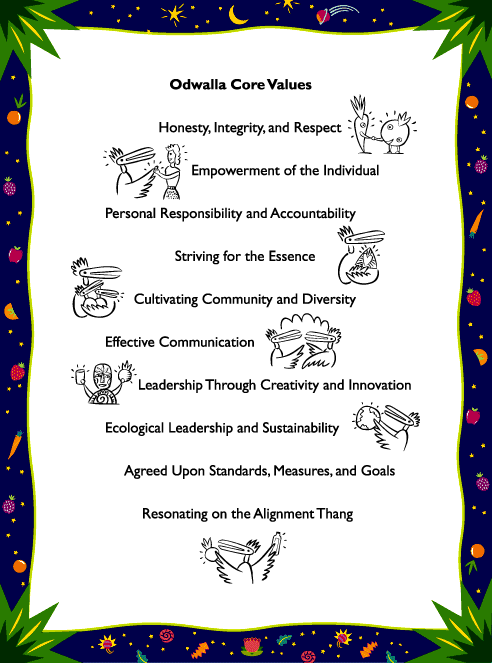 Employees were also involved in the product tasting and naming processes. Every day, Odwalla also rewarded staff members with a pint of fresh juice to take home. If it wasn't good enough for their families, it wasn't good enough for consumers. Simple.
Just one year later, in 1993, Odwalla expanded it's team to almost 200 employees and began selling in the Pacific Northwest. At the same time, they acquired two other American juice companies: Dharma Juice and Just Squeezed.
The following year, Odwalla's products were available in 1,400 locations.
Two years later, that number grew almost threefold. The juicery was selling in 4,000 locations across California, Nevada, Oregon, Texas, New Mexico, Washington, and even British Columbia by 1996. Odwalla was on the way to becoming a national brand and household name.
Consumers were drinking up Odwalla's every move, the "fresh beverage revolution" was not far away. Everything was perfect.
That's when disaster struck. Just as Odwalla started generating millions in revenue, a bad case of food poisoning shattered it all.
In 1996, scientists traced an E. coli outbreak to Odwalla's apple juice: one that ailed 66 people and killed a Denver toddler.
Despite having all the necessary sanitation processes in place, something failed. Researchers suspected suppliers had sent the company a bad batch of apples contaminated with feces, or the carrots included in Odwalla's apple juice were otherwise spoiled.
It became a health and PR nightmare.
According to The Seattle Times, Odwalla's sanitation process was below standards the week that the contaminated juice was processed. This new e. coli strain was previously believed not to survive cool temperatures, let alone in acidic apple juice.
Steltenpohl publicly mentioned that the evolving microbe of concern could have been transmitted through lettuce (a notorious E. coli carrier). Still, at this stage, his words had little impact.
The juice company moved apologetically, issuing recalls and offering financial compensation to affected individuals. Even setting up websites and call lines to share accurate health information and their solutions to the problem moving forward. Despite their best efforts, it was mayhem that scarred the company forever.
The company's stock decreased by almost half, and lawsuits riddled Odwalla. Ultimately, Steltenpohl's business lost 90 percent of its sales following the news, posted a loss of $11.3 million, and laid off 65 workers (10 percent) within a year of the E. coli disaster.
Odwalla's food poisoning scandal is one of the risks of a raw-food company. There are countless nutritional benefits to consuming juice from whole food fruits and vegetables that haven't touched heat. Unfortunately, the potential for contamination is also ever-present. Producers have to be that much more careful, even though the ingredients could have been compromised before reaching Odwalla.
In response, Odwalla decided to flash-pasteurize their juices, meaning the beverages are quickly heated then rapidly cooled to kill off foodborne bacteria. Though pasteurization compromises the vitamin and mineral content, it's much safer than the alternative.
Odwalla wasn't the only company impacted by this health crisis: grocery chains stopped carrying many other fresh juice suppliers as well. A threat of FDA-mandated juice pasteurization loomed grimly over the entire industry. It was a whirlwind of chaos for the natural foods market.
Though it wasn't an easy journey by any means, the resilient Odwalla slowly bounced back. Amidst the crippling lawsuits, Odwalla began fueling its delivery trucks with compressed natural gas, leading them to win the American Lung Association's Clean Air Award in 1997. Their actions served as proof that they always had their original mission — to change communities for the better — in mind.
Alongside their shift to green fuel conversion, Odwalla also remained dedicated to waste reduction via recycling, reusing water. They went as far as introducing plastic bottle alternatives composed of a natural sugarcane derivative.
On top of their sustainability initiative, they were busy creating healthy meal-replacement-type beverages advertised as "drinkable feasts." Filling a void for healthy alternatives to junk-filled fast food; energy bars; and a new roll-out of protein, fruit, herb, and vitamin-rich drinks.
The rebranding worked, but Odwalla was still suffering from its financial losses. Despite growing immensely and acquiring yet another company — Fresh Samantha — Odwalla couldn't resist a $181 million deal from The Coca-Cola Company in 2001.
Odwalla continued operating and thriving under its own name as a subsidiary for almost two decades until Coca-Cola shut down the brand in July of 2020. Cola-Cola proclaims this closure is due to a stark consumer shift away from sugar-filled drinks — even if the sweetness is naturally occurring.
While that may be the end of Odwalla, it's certainly was not the end for Greg Steltenpohl. Nearly ten years after Coca-Cola acquired the juice company, Steltenpohl started up a new business: Califia Farms.
A plant-based dairy line based around a philanthropic ideal: helping people go plant-based while offering "more enticing flavors" and superior packaging.
Since launching in 2010, Califia Farms has been awarded BevNet's Brand of the Year, landed on Forbes magazine's list of top 25 most innovative brands, and was named Whole Foods' supplier of the year.
While Odwalla's story may have come to an end, Califia's journey will live on. As will Greg's legacy after his passing earlier this month.
There's no question that Greg Steltenpohl, Gerry Percy, and Bonnie Bassett were in the truest sense, Pantry Pals.